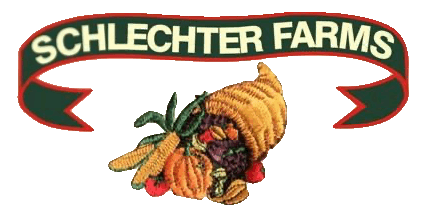 10143 86th Ave NE, Salem, OR 97305, USA
P: 503-792-3328
E: info@schlechterfarms.com
Schlechter Farms is continuing a family farm tradition that dates back to the early 1900's when Jim's grandfather, Joseph Schlechter, settled in the Willamette Valley. Jim started farming in 1971 with wheat and clover seed, but switched in 1978 to sweet corn and onions. Over the decades, winter squash, grass for seed, broccoli and four gardens of peppers, tomatoes, cucumbers, zucchini, and other farm-fresh vegetables have been added to the crop rotation. Part of the farm is located in Lake Labish, where we grow the red and yellow onions for which Lake Labish is famous.

Many of the produce vendors at farmer's markets in Oregon purchase sweet corn from us for resale to their farm market customers. We also supply corn and other vegetables to several of the Willamette Valley farm produce stands and grocery stores. And since the early 1980's, we've operated a produce stand of our own during the corn season from early August through late October.
Produce Stand
Our Hours this Season

Monday - Saturday - 8 am to 7 pm
Sunday - 10 am to 7 pm
Frequently
Asked
Questions
Is Your Corn GMO?
Please be assured, our corn is not a GMO variety. We have certification letters from our seed suppliers that none of our delicious super-sweet corn is grown from genetically modified seed. So enjoy all the Schlechter Farms corn you can eat without worry.

What forms of payment do you take?
We take cash, checks, debit and most major credit cards. Or use your Apple Pay for touchless payment.
We accept FDNP (Farm Direct Nutrition Program) green checks. We can also accept EBT cards for SNAP-approved purchases.

And we have gift cards available, either to use as gifts, or as your own easy method of payment all season.
Harvesting With Care
Our Commitment to Quality
Starting in 2014, our corn crop has been certified as meeting the standards and practices of the US Department of Agriculture's "Good Agricultural Practices" program. We must meet strict guidelines for planting, harvesting and packing, and also for cooling and storage methods of the crop.

We rotate our crops from year to year, so the corn fields may be on upland ground one year and on Lake Labish the next. A Monosem 8-row planter is used to plant our corn. Weather permitting, we try to plant a few acres of corn every week from mid-April to July 4th, so that we have a constant supply for our customers from August 1st through late October. We irrigate regularly during the dry summer months, so that our delicious corn is juicy and sweet.

We do not plant GMO corn. You can be assured that Schlechter Farms corn is committed to growing sweet corn of the highest quality possible.

Special Machinery Used For Harvesting and Packing
We have used a Pixall single-row tractor-pulled corn harvester for the past few years, which is specially designed for picking fresh market corn. The corn picking machine utilizes a gentle pulling action that imitates hand picking, virtually eliminating damage. In mid-season, it's not unusual for us to pick seven or eight wagons of corn a day, starting two or three hours before daylight. We pick our corn so early because the air temperatures are cooler and that helps to keep the corn fresh.

Storage of Crops and Processing Equipment
The wagons of freshly picked corn are brought from the field to the farm, where the corn is sorted, hydro-cooled and packed in boxes for the wholesale market or bags for our produce stand. The hydro-cooler is a very important method of cooling the corn in order to keep its sweetness. Our farm is one of the few in the state of Oregon with a hydro-cooler, which is an ice machine unit and a cold water spray that preserves the taste and shelf life of the freshly-picked corn. The taste and quality of sweet corn depends heavily upon its sugar content, which rapidly decreases after harvest if ears are allowed to remain at field temperatures. By lowering the temperature quickly and thoroughly through our hydro-cooling unit, the conversion of sugar to starch is substantially slowed, capturing the sweet taste at its peak.
Our Crops
Our customers have been shopping at Schlechter Farms for over forty years for our super-sweet yellow and white corn. Our well-deserved reputation for quality and freshness starts before the sun rises each day of the corn harvest. We pick the corn during the pre-dawn hours when the air is crisp and cool, then rush the wagons from the field to our hydro-cooler. Nothing like a dip in ice-cold water to lock in the freshness of each and every ear!

The corn is then sorted by hand and packed in mesh bags that allow the ears of corn to "breathe" before the bags are sent to our walk-in coolers. We bring out the freshly-picked bags of corn only as needed to maintain the flavor and sweetness, so you can be sure you're getting your corn as fresh as possible at Schlechter Farms.

At our seasonal produce stand, we also offer a wide variety of vegetables grown right in our own gardens.

We have several vegetable gardens, where we grow peppers, melons, tomatoes, cucumbers and zucchini. We also have a small peach orchard, and offer mouth-watering freshly-picked peaches during early August.